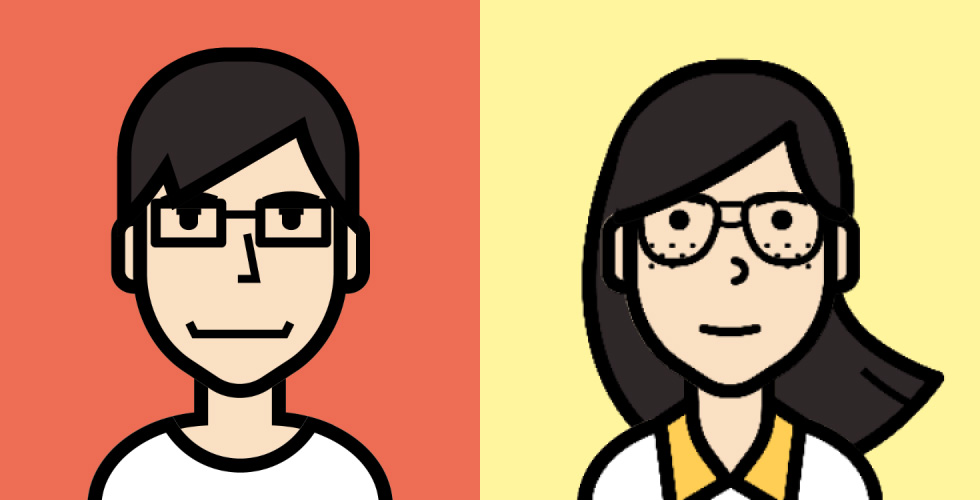 S: To meet penpals, learn about different cultures and have meaningful conversations are my goals upon installing the app. I didn't plan on falling in love; I'm not interested in the idea of loving someone, as I'm convinced that I don't need a lover, a partner or a husband at all in order to live well. One could say that I'm pretty happy with myself already, but reconsidered made a "complete painting" more beautiful. Somehow the universe gave me this idiot. I love this idiot.
R: Curiosity is my driving instinct and boredom, my greatest enemy. The day I installed Slowly, I could not have possibly anticipated what was about to come. The day I met the grey witch, I felt like I had stumbled upon someone incredibly verbose. Remembering her first few letters she sent takes me way back, how I wanted replying to be my priority in those moments.
S: It wasn't love-at-first-letter. If anything, he is a good friend I found from here. (He even asked for advice about love, I think.) He sounded smart and curious. Everytime a letter from him comes, one should expect lots of questions in the end. The way he pays attention to the details of the letter's contents impressed me so much that I felt like I should keep up with his energy in replying (covering as many topics as I could). I've never met anyone who writes massive replies like I do.
R: She sounds quite rational. She sounded smart. She sounded like someone friendly and interesting. I see nothing wrong with basing a friendship off of that already. I felt sympathetic to her way of seeing things, felt glad to see her reply to me in between the mass of people ignoring every critical argument. We discussed a bit, and her openness appealed to me. It's a quality that is rare in my eye. She has been direct in her manner of asking questions. I like that, still.
S: After a month or two of exchanging letters, we decided to contact each other through some app – testing the waters. reconsidered laughed and talked a lot on our first call. I was so nervous with phone calls, he seemed pretty lax. Somehow, it ended fine (with him playing Mr. Sandman on piano). We exchanged a few more letters until we rarely talk on Slowly and decided to chat instead. We talk about many things–universe, human behaviour, emotions, love, philosophy, experiences, movies, science, linguistics, computer science, and music. We get to know each other letter by letter, message by message. As most internet friendships are like, I was afraid of our connection ending instantly as it began the same. The talk about the possibilities and choices to make in the present somehow deepened my connection and admiration to his way of thinking.
S: A day didn't pass without us spending time together, either through watching movies, discussing things, or him playing the piano. Even when I go to work, and he goes to sleep, the best part is when I go home and I see his "welcome home" messages. The more we talked, the more we realized who we are to each other, until there came a need to finally get out feelings straight.
S: Whenever I'd hear the song Wonderwall by Oasis, I couldn't help but feel this warm fluttering in my chest. Indeed, there are many things I'd like to say to him but I don't know how. It felt as if my heart went thrice bigger its size, then include all the butterflies I get just at the thought of him. That moment I wondered if it is reasonable to smile just the thought of his words and laughter. For someone who never felt romantic love before, it was as if I'm getting sick. (That sounds like a line from a novel, cough.) The idiot he was, told me he loves me too much. And the idiot I am admitted, yes, I can't go on without him. From here, things have started to sail.
R: And it didn't end. It's not ending and we exchanged vows to each other. We'll work towards our goals and never stop running towards our future together.
"Now I've had the time of my life
No I never felt like this before
Yes I swear it's the truth
and I owe it all to you", Slowly.
S: (Married at heart, as we call ourselves.) This draft has been sitting for a while. It has been months, I suppose, and many things happened within such time. As of the moment, he is studying his (OOP) lessons and isn't aware I'm submitting this. I excused myself from studying with him, saying I'd nap. However, I went here to write and not miss telling our story. Anyhow, I'd like the world to know what he is to me. In him, I found many things: a best friend, a learner, (the present and the future), a muse, a poet, an inspiration, a lover, a husband, a home. I want to make and keep him happy, to support him in his decisions in life (and tell him off if I know it's bad for him).
So, thanks for leading me to the other end of my red strings, Slowly.
(P.S. A song goes like, "the greatest thing you'll ever learn is to love and be loved in return," and I can prove that. Because of you, my dearest reconsidered, I learned the greatest thing and that is (to) love. Let us keep learning together. I love you for eternity, beyond the point when last blackholes vanish in the universe. You are my moon and sunshine and all the starlight gathered together. Ich liebe dich jeden Tag so sehr, forever.
-S, greywitch.)