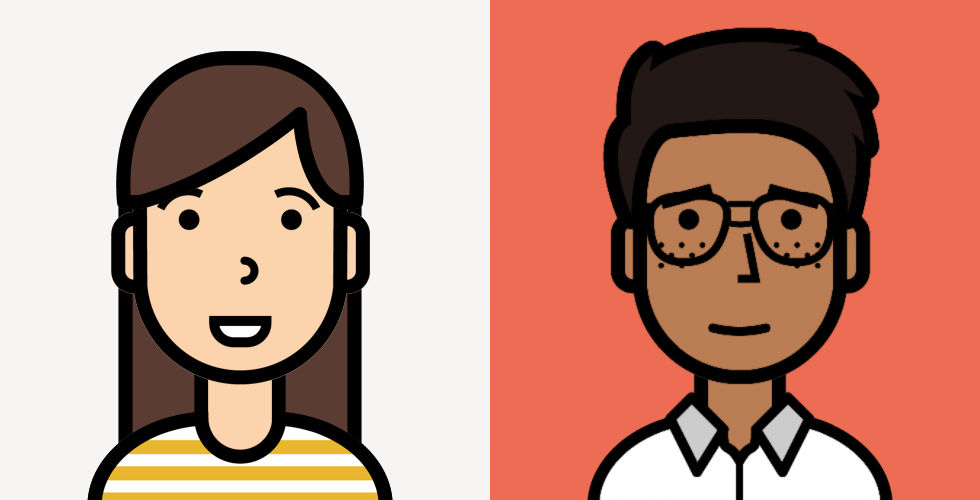 I joined Slowly in August 2019, the summer before my senior of college in the United States. I still remember when I was introduced to it – at the mall back home in Singapore with one of my friends whom I had known since I was ten. The way she described it, "an app where you can meet people all over the world," sounded sketchy at first so I was skeptical despite my love for letter-writing. However, she talked more about the app's cool features and that, coupled with her status as a long-time trustworthy friend of mine, sold me on the app.
I downloaded the app, made an avatar and started writing letters. I read the bios of every single person I have messaged on Slowly. So when I read the bio of ACM96 (his name is actually AJ) I was like ooh someone in California! The United States is so big and it was nice that someone identified which state they were from, and the bio itself made him seem pretty approachable and friendly. Also, pretty much everyone I knew from California, I knew through school so I thought it would be interesting to know more Californians through another platform.
Our conversation started, and kept going on and on! I learnt that he was also from the Los Angeles area (where I go to school) and we talked about a lot of things. What we talked about in around 40 letters (excluding texts outside Slowly) cannot possibly fit into here, but our conversation highlights included me failing my California driving test three times, discussing bad fashion in Singapore, AJ working at Target and then going to Navy bootcamp, and other miscellaneous things like school.
When I returned to LA after summer break (but before school started), we enjoyed the letter delivery time dramatically decreasing from 3 days to 40 minutes. We also met up at a mall in LA County! I was excited but a little nervous…I had never met someone I had previously only known online before. I kept recalling cybersafety presentations from middle school and thinking "Omg what if it's awkward…that would suck…" but
As you can guess
It wasn't!! 🙂 We talked as easily in real life as we did in the app, wandered around the mall and ate dessert at Dippin' Dots where I requested the Dippin' Dots guy take a picture of us holding our phones with our Slowly avatars. We continued to talk after that (though more slowly given that school had started again for me) and video called in February before he left for navy bootcamp!
Today (over half a year later) we still talk and I am hugely grateful to my friend from back home and the creators of Slowly for bringing such an amazing experience into my life! I had always thought pen pals (or maybe friends initially made through letter-writing) were a thing of the past due to modern technology favoring instant connection and communication. However, I think Slowly has harnessed the best parts of modern technology to allow for the gradual cultivation of meaningful friendships. If I have any advice for people using Slowly (which is probably the vast majority of people reading this), it is to be enthusiastic and as talkative as you can comfortably be! The more you write, the more others can reply, the more you all can learn about each other, and all these interactions can lead to wonderful friendships! Big hugs to everyone and I hope you all receive letters that make you smile 🙂