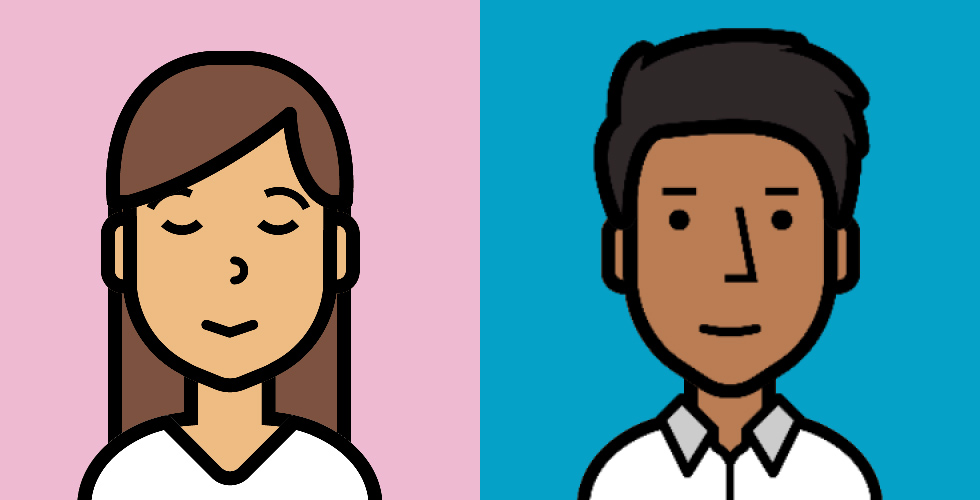 In June 2019 she downloaded SLOWLY to meet some people from other countries and improve her English skills.
June 26th, 2019   10:59 AM
She sent her first letter to an Indian boy through auto matching. And miraculously she hit the spot with the first letter itself, because the person she sent it to, turned out to be the right one.
June 27th, 2019   09:29 AM
He received a letter from Poland. And he thought, "Maybe I should reply her". It was her first letter on SLOWLY, and probably his tenth or so. Back then, he was just looking for friends with whom he could connect to, and he got something which was just unexpected for him, just like a dream.
She still remembers his first letter. It was different from the letters which other people sent her later on. He wrote about rain, music, thunderstorms. Small and big things at the same time which were very important for him. And suddenly, they started to become very important for her too. They talked about food, music and other art forms and cultures and plenty of other things they don't even consciously remember now. He told her all about his depression and his horrible heartbreak because he was a fool and she was there for him, supporting him. He had the urge to be absolutely honest to her and he confessed a wrong he did. She didn't approve of it, but, strangely he felt very satisfied and in peace, and of course she forgave him.
Then one fine day, she wished to listen to his music. That was it, he gave her his email ID and she sent him an email and he sent two clips in return. He was very nervous about how she'd react to his hideous singing in a cracked, high pitched voice. But she loved it! And she wanted more of it, and he was only happy to comply.
They had exchanged about, 80 letters in just a month, with an agonizing 19 hours of wait for each of the letters.
A time came (yes, just within a month they felt like they knew each other since they were children, because they were so similar. They even called each other "lost twins"), when he tried to imagine how she looked in real life by looking at her SLOWLY avatar. He felt an overwhelming need to see her.
They used to wait for a notification, telling "he/she sent a letter on SLOWLY", every moment of the day. That particular notification made him happy like nothing else in his gloomy days, even if it meant 19 painfully sweet hours of waiting. And for her, waiting for his letters for 19 hours was just so exciting, but sometimes unbearable too, because she had the fidgets.
He used to set up a timer, every time she sent him a letter, "19 hours .. that means 03:27 at night". He tried to stay awake many nights and read her letters as soon as they arrived, but most nights he fell asleep. But it always made him happy like a five year old and made him smile, when he saw her letter, first thing in the mornings.
July 15th, 2019   02:40 PM
Emails…
She: And I'd like you to send me messages on Facebook instead of mail because as you see I don't often use it. Are you okay with that?
He: Yes I am more than okay with Facebook. I think I sent you the link to my Facebook profile in one of my letters. Here it is …
And then …
August 16th, 2019   08:04 PM
They are talking to each other all the time on Facebook now, with the barest of pauses while they sleep. He thinks of her when he wakes up in the mornings and till he sleeps at night and so does she.
They never intended to text on Facebook, but, they couldn't keep themselves from doing it. Despite different time zones, they text all the time, sometimes even at night or dawn.
They share their thoughts and cultures. He showed her beautiful Indian music, which she fell in love with. She introduced him to Polish food in turn.He loves sending her pictures of clouds (from the same window every time) and flowers and his garden. He also loves singing for her, sending songs to her, and sharing music from all over the world, and every little thing he knows. She would have never imagined that she could meet somebody like him through the internet. She feels that they are soul mates, because they text about seemingly boring things, such as pickled cucumbers, dogs, social issues or any silly other thing for hours at a stretch. They are basically a couple of weirdos addicted to each other like drugs.
They didn't resign from exchanging letters on SLOWLY, even after starting instant messaging, because it's still as exciting as the earliest letters, and thanks to SLOWLY, they met each other. In their later letters on SLOWLY, they created their own 1750's world, devoid of telephones, cameras or even telegraph machines, where he's a farmer boy who owns a farm and a bull, and produces rice, tends to chickens, loves to get wet in the rain and walk in the moonlight. And she is a city lady, with exemplary skills in embroidery and a breathtaking hidden talent in painting, and he believes that her skills will make her successful one day. And they still trade letters, for it's very sacred to them, and that's how they met. Yes, they are equally crazy and weird.
An excess of 6600 staggering kilometres, 19 painfully long hours of waiting on SLOWLY and 3½ awkward hours of time difference separates them. To be practical, an ungodly distance and 10 or so countries sit between them. But, as we said before… they are so special to each other that they can't stop talking despite the distance. Now, language barrier ? His native tongue is Bengali and her native tongue is Polish, and they don't know, even a bit of, the other's native tongue. So what ?
In today's world, nobody waits for 19 hours for a single message. "It's not the 50's, try some instant messaging" they say.
But, some wise old lady (she's still alive) used to tell stories about people who delivered letters. She used to tell that the people who delivered letters were "bearer of many births, deaths and wars".
And true the tales were. For SLOWLY gave birth to their friendship and something more. And they gave birth to the promise, that they will meet, soon, very soon.
The distance between us is in excess of 6000 kilometres, but, we hope that we will meet one day, soon.
We express our gratitude to SLOWLY. None of us thought that either of us will connect to somebody, who lives so far away, in such a way. It has connected not only us, but also our lives and hearts.
— Sincerely,
klaudia18 & Avik17